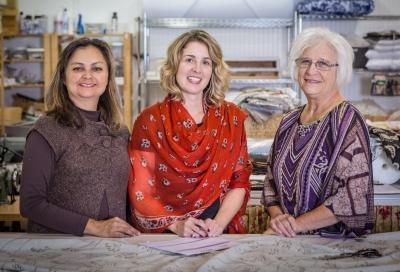 For 35 years, Lyn's Draperies has been sewing inspired, custom treatments to enhance the cherished surroundings of our Whatcom County clients. What began as a local, wholesale drapery workroom has expanded to a regional retail sales firm providing the highest quality window treatments, pillows and cushions, bedding ensembles, and more.
Lyn Beatty
Lyn has been passionate about sewing since childhood. With an extensive background in fabrics as well as dressmaking techniques, she taught sewing for many years. But when her sights turned to décor projects, she saw a need for custom services in Whatcom County. Pursuing her love affair with fabric, product creation, styles and interior design, Lyn opened Lyn's Draperies and began to cultivate a reputation for the highest quality, custom products our region has to offer.
Lyn enjoys working personally with each client, whether the project concerns a single cushion or window treatments for an entire home, business or boat. Her special expertise with draperies and drapery hardware means easy solutions – she knows how to achieve the effects you want without reinventing the wheel.
Jennifer Linds
Jennifer discovered her love of manipulating fabric during her earlier years with her grandmother and followed her passion into her collegiate studies, earning a degree in Fashion Design and Textiles. After years of designing and creating custom apparel projects she joined Lyn's Draperies and quickly discovered how rewarding it is to design and create for the home.
Jennifer enjoys all steps of the design process from the initial concept to the final installation and places high value on the relationships with clients that are built along the way.
Meryluz Doque-Soto